Welcome to RACE INSTITUTE
First of all, Congratulations on deciding Bank / Govt Organization as your career path.
We wish you "ALL THE VERY BEST" for your Preparation and Success.
The following Procedure is only applicable for RACE Enrolled Students.
Non-RACE Candidates can still use signup feature available on the app & get Non-Official Notifications from RACE Institute.
Make use of RACE Institute as much as you can & Crack Bank / Govt Examination as quick as possible.
Hope you have got your RACE Bill & Identity Card.
Check your Bill for Enrollment ID and Mobile Number (Registered with RACE during Enrollment) and follow these steps to GET YOURSELF ACTIVATED to access Online Exams & Facilities.
The Enrollment ID will be required to log in our STUDENT DASHBOARD to get Online Exam access & attend Practice Programs.
Please do not share your enrollment ID with your friends/relatives. Keep your Bill & Identity Card safely.
How to register in Simbatech for Online Exam and Practice Program access?
Student Dashboard:
1. Log in with your Enrollment ID and Mobile Number (Registered with RACE).
2. The Homepage of the Student Dashboard looks like this.
3. Fill your Primary Information & Qualification Details. Upload your Passport size Photo with the prescribed file format (Jpeg, less than 100 KB).
Note: Please fill the details with care. Details & Photo once uploaded cannot be edited again.
4. Click the Save button at the end of this page.
ONLINE EXAM ACCESS:
5. After receiving "Successfully Updated" popup, press log out button at the top-right corner of the Page. 
6. Login Again with your Enrollment ID and Password. Click on "ACTIVATE MY ONLINE EXAM" Button which is ACTIVE now & exactly placed above your Fee Details.
A KIND NOTE: Students who have joined RACE at OFFER Price / Concession are able to take online Exams when the Fee Due gets ZERO. Our Team will be fixing this within a week time. So, Don't get Panic. 
Note: You will be redirected to our Online Exam Portal. Https://onlinetest.raceinstitute.in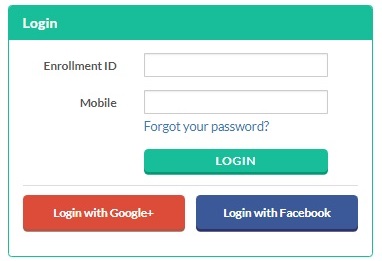 7. Login our Online Exam Portal using the same Enrollment ID & Mobile Number.
8. That's it. You are now SUCCESSFULLY ACTIVATED YOUR ONLINE EXAM LOGIN. From now you can simply visit the above link (https://onlinetest.raceinstitute.in) directly to take Online Exams anywhere.
There are plenty of Online Examinations available on your Online Exam Dashboard. You can also "DOWNLOAD RACE APP" & take online exams from your mobile.
PRACTICE PROGRAM REGISTRATION
Back to Student Dashboard (http://simbatech.in/bill) & login with your enrollment ID and Mobile Number.
9. Navigate to REGISTER tab available at the top menu.
10. You can find contact details of the Mentor at the top of this page. All the Ongoing Registrations that are available for your Branch will be displayed after Mentor details.
11. You can register for the desired program and before the closing date mentioned.
12. Your registration details will be analyzed and approved by the mentor manually.
Note: Registrations with VALID Details get APPROVAL. The mentor may REJECT your registration for invalid details.
Registration Confirmation will be available in "HALL TICKET PDF" tab. You can download the Hall Tickets PDF if required.
You can follow this procedure to register for all Practice Programs conducted in RACE Institute.
13. Open Registrations will be INTIMATED to the students via RACE APP (which you have downloaded earlier), Social Media Pages & on the Official website.
14. You can also find the following details on the Student Dashboard.
Books & Materials – List of Books you can get for the course you have joined will be displayed here.
Schedule – You can comment & Rate your Daily Classes conducted. Comment & rate options will be disabled on the next day.
RACE Tube –RACE Youtube Channel Videos will be available here. You can check our Youtube Videos on the website as well.
How & Where to check Daily Class Schedule?
Daily Class Schedules will be available on the RACE APP & RACE Official Facebook Page.
In RACE APP: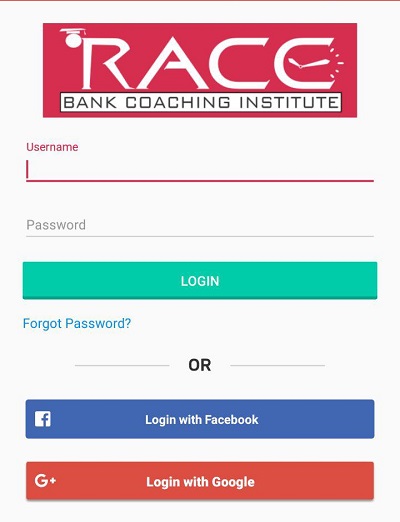 1. After Logging in on the RACE APP, navigate to POSTS Button.
2. Daily Class Schedule of the Branch will be available after 4 PM of the previous day. Notification will be pushed in RACE APP.
3. You can click on the POST Section & navigate to your Branch to check your Daily Class Schedule.
4. My Schedule category under Posts Section will specifically fetch your default batch class details. If you are attending classes in other batches, please refer Full Schedule (See Point No 3).
Note: Daily Class Schedule / My Schedule will be available to RACE Students only. Use your Enrollment ID & Password to get Daily Class Schedules in RACE APP.
We are on Social Media Now. Follow us in any of the Social Media mentioned below. Download our RACE APP & get frequent updates on latest exam notifications etc.
Want to get a Job in Bank or Govt Organization?
Join Chennai RACE Institute Today
Latest Notification Updates